Asus Chromebook C423NA Touch review
Reviewing the Asus Chromebook C423NA from a practical point of view.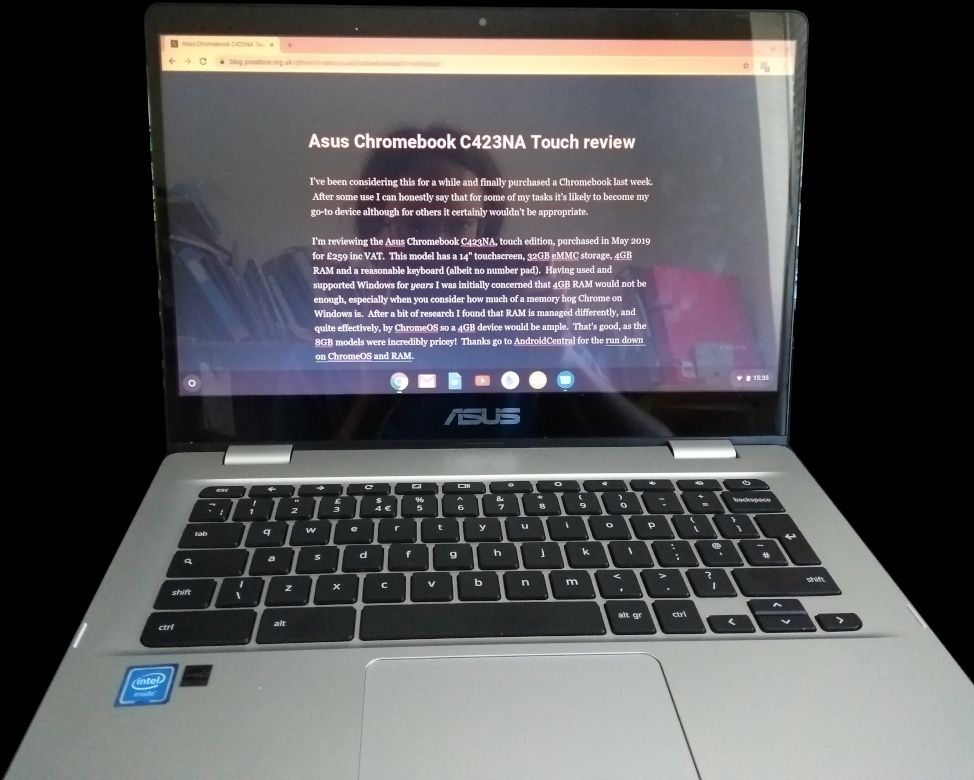 I've been considering this for a while and finally purchased a Chromebook last week.  After some use I can honestly say that for some of my tasks it's likely to become my go-to device although for others it certainly wouldn't be appropriate.
I'm reviewing the Asus Chromebook C423NA, touch edition, purchased in May 2019 for £259 inc VAT.  This model has a 14" touchscreen, 32GB eMMC storage, 4GB RAM and a reasonable keyboard (albeit no number pad).  Having used and supported Windows for years I was initially concerned that 4GB RAM would not be enough, especially when you consider how much of a memory hog Chrome on Windows is.  After a bit of research I found that RAM is managed differently, and quite effectively, by ChromeOS so a 4GB device would be ample.  That's good, as the 8GB models were incredibly pricey!  Thanks go to AndroidCentral for the run down on ChromeOS and RAM.
My use case
Regular readers might think it strange that I've purchased a Chromebook given I recently shared my views on why Google's GSuite isn't ready for the enterprise.  It's worth noting that I've purchased a Chromebook for a relatively limited set of tasks out of my day-to-day computing needs.  My use case is for a lightweight device with a reasonable size screen and keyboard so I can do some general admin (browsing, emails) and give talks / lectures without having to carry my usual three kilogram laptop (I talk about portability further down).
The C423NA isn't to replace my existing devices (workstation, laptop, phone, tablet) but to complement them.
Construction
This Chromebook feels like it has a metal screen casing with a plastic keyboard / motherboard section.  Construction seems to be fairly sturdy without much flex in either the keyboard or the screen.  The hinge is designed to allow the screen to be folded back flat, although it should be noted it's not completely flush (not that this matters).
When using the touch element of the screen (i.e. prodding it) the screen does tend to wobble, the same as it does while typing, although the wobble isn't excessive.  There are neat rubber stand offs around the keyboard to hold the screen just fractionally off the keyboard when the unit is closed.
Boot times
A Chromebook should come on as soon as you open the lid, and I've seen some boot sufficiently quickly that you'd be fooled into thinking the device was already on.  The C423NA isn't as fast as that, but, usually, the boot time to login screen is a very acceptable 15 seconds (measured 4 times the boot was fairly consistent).  After entering my password I was presented with my desktop after around 6 seconds, with Chrome open and waiting where I'd left off.
ChromeOS and browser
A confession from the outset:  I'm one of those people that prefers Firefox.  There's just little behaviours and user interface (UI) differences with Chrome that I'm just not a fan of.  That said, I fully expect to be using Chrome as the browser on this Chromebook, so won't be installing any alternatives (via Android or Linux support).
ChromeOS itself is a cut down version of Linux, and there's certainly been some work done to make it efficient on lower powered devices like Chromebooks.  As an example, this Chromebook's processor's base speed is 1.1 GHz yet I certainly don't notice any particular slow down.  ChromeOS also seems fairly customisable when it comes to key mappings (e.g. changing that search key back to caps lock), Chrome start up mode and behaviour.
I won't say anything more about ChromeOS particularly, as this review is about the hardware.
Keyboard & mouse pad
As mentioned, there's no number pad on this keyboard.  There's also no home, end or similar keys although keyboard shortcuts make up for some of that ( search+ right arrow is end for example).  Overall I can get a reasonable touch typing speed on the keyboard, which didn't take long to adjust to.  Multimedia keys are present on the row above the numbers, where you'd typically find the F keys.  This blog post was all typed on the C423NA keyboard.
The layout is UK Qwerty which is a shame for me as I tend to use UK Dvorak.  That said, I'm not naive enough to think I'll get a laptop with a custom keyboard for £245!  For those worried the physical layout might be odd (incorrectly positioned # or CTRL) I've included a photo of the keyboard below:

The mouse track pad has no dedicated right click button, instead requiring a two finger press anywhere on the pad.  This is slowly becoming the standard and I did it automatically.  It threw a cousin of mine completely though and then I had to think about how I was right clicking!  Two fingers can also be used to scroll.  I've not had an issue with the track pad while typing as yet, which is good as there doesn't seem to be a button to turn it off.
Screen
As you can tell from the photo, the C423NA has a glossy screen and it's quite reflective in some light conditions.  I've not had a problem using it although I suspect that's only a matter of time.  The resolution of 1366 x 768p isn't too bad although I definitely find the physical screen size restrictive when working on spreadsheets.
A quick test in sunlight (which I try to avoid) showed even on full brightness the screen was almost unusable due to its reflective nature.
The touch screen is quite responsive although sometimes mistakes a tap for a prolonged tap (right click).  I've not tested it with any form of stylus.
Portability
Being a cyclist my storage capacity is quite limited.  I've not fitted bike bags as I'd rather have a slimmer bike with a lighter weight, so I'll invariably be out and about with a rucksack.  As it is, that bag has normally got waterproofs, spare socks, small tool kit and my wallet in it so any devices I'm carrying have to be small.
I could have opted for an 11" Chromebook but a 14" screen is really the minimum size I'm happy working on.  This device weighs in at 1.2 kilograms (without charger) which is quite a nice weight and I don't tend to notice it in my bag.  I even took it on a walk this afternoon with no issues.
Sound quality
Not unsurprisingly, the speakers on this device are not the best in the world.  Given the Chromebook is only two centimetres thick at its widest, with the keyboard section comprising 1.4 centimetres of that, there's not a huge amount of space for high quality speakers.
I've noticed some irritating resonance on some frequencies at certain volumes (the C423NA can go surprisingly loud).  For example, there's quite a buzz when listening to Matthew Perks on his DIY Perks YouTube channel (tested with this video) and Toccata and Fugue by J.S. Bach.  That said, at lower volumes the sound quality isn't so bad.  There's also a 3.5mm jack and Bluetooth for connecting headphones (sound quality through my cabled headphones was good).
Camera
The camera quality isn't the best (see the still below, which apparently includes the very top of my head ...) although I suspect it'll be adequate for basic video calling (untested).  I appreciate landscape photography is not what this camera is designed for!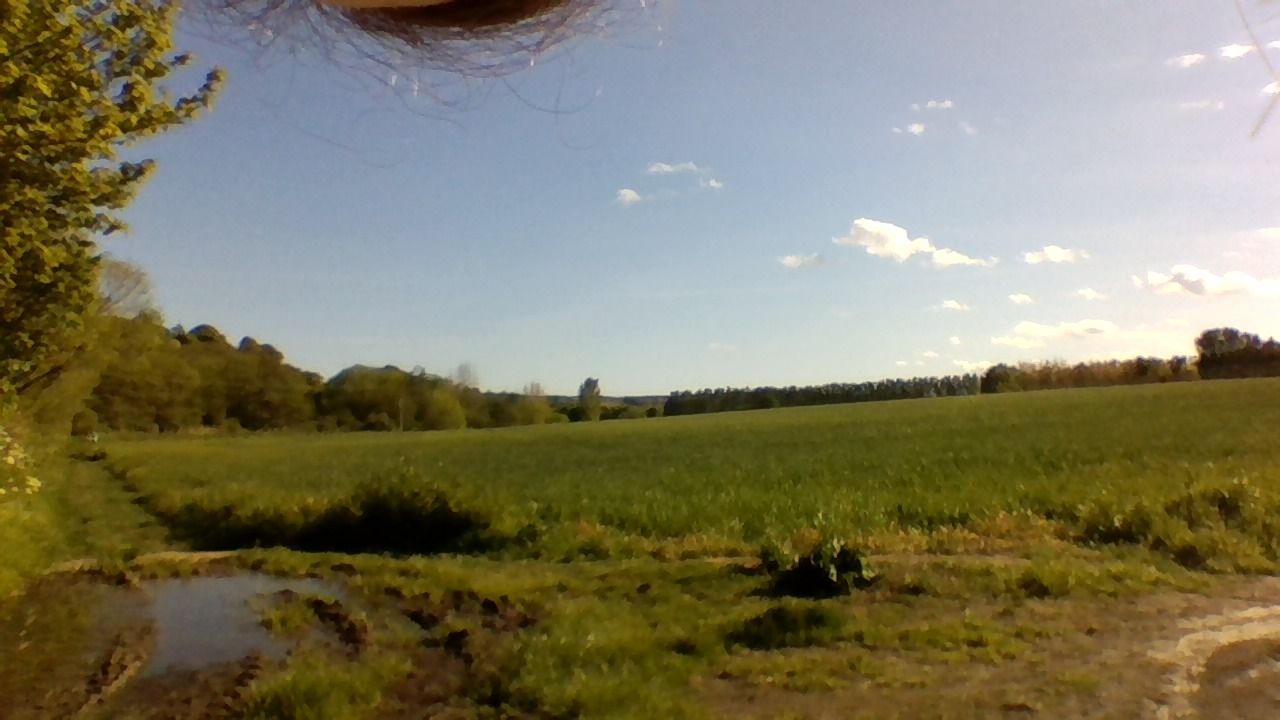 Connectivity
Contrary to the product page on the retailer I bought the C423NA from there is not a DisplayPort connection on this device.  Additional displays can be connected via USB-C adapters sold separately.  Ports on the C423NA are:
Two USB 3.1 (A style)
Two USB 3.1 (C style) - one of which is marked for charging
3.5mm jack for headphone / headset connection
MicroSD card slot
Bluetooth 4.0 and dual-band AC WiFi are also supplied.  I've had no complaints running over WiFi as yet, so haven't ordered a USB-C network adapter.
Android support
Not a lot to say on this, as that's more software, but yes this unit supports running Android apps.  I've  only installed eVitabu in the Android environment at the moment and it operates fine.  Android seems to be version 7, Nougat.
Battery life
One of the biggest selling points of the Chromebook line of devices is their long battery life.  The C423NA does well here too having lasted on a single charge while being used each evening for a week.  Mileage will vary, I'm sure, depending on what you're doing with it (streaming films is likely to reduce battery life) but I'm impressed so far.
As I type this I have 46% battery left, an estimated 5 hours 55 minutes.
Heat and fans
I don't think there are any fans in this Chromebook, there's certainly no heat vent and I've not heard a fan running.  The device hasn't even got warm yet, so I'm not surprised at the lack of fans.
Conclusions
As I said at the beginning, this Chromebook can't replace my Linux workstation or laptop but I'm prepared to use it as my primary device for some things.  That's very much down to what I do as a developer though, and the tools I use.  Part of the reason I bought the Chromebook when I did was because my cousin was visiting and is starting university in September.  She needed a new laptop and a Chromebook would be the perfect device for her.  As I say - every use case is different.
I'm pretty happy with the device itself and would certainly recommend it.  I was a little concerned about the keyboard but am pleased I can get a reasonable speed on it and that the layout is as I'd expect.  Too many laptops these days (HP I'm looking at you!) seem to reorder keys to move CTRL or # and that's just a pain.
If you need a lightweight, cost effective, device then this may be right what you need.
Update: November 2023
I hadn't realised it was over four years since I published this post (originally 13th May 2019), and I figured I'd add a small update, written from my Asus C423NA Chromebook which is still going strong.
The Chromebook is still receiving OS updates from Google, and I'm running in the beta branch (something I switched to originally so I'd know if problems would be coming at work).  Chrome still works just as well as it did four years ago, and I've not seen a site complain about it (and wouldn't expect to).  I'm currently using Chrome version 120.0.6099.25.
Battery life is still pretty amazing, and my Chromebook comes with me to church when I'm on sound / projection so I can monitor the sound on the live stream.  Sometimes I've gone two whole services, plus set up time, without needing to recharge, so around four hours.  Admittedly I'm not doing anything too processor intensive in the time, but it's impressive nonetheless.
The keyboard is definitely showing signs of wear - some of the letters are wearing away.  Typing still works without issue though, which is the main thing.  The trackpad still works fine.
It does feel like the Chromebook is slowing down a bit.  I have Android and Linux environments installed, which should only be running when called upon, so I don't think that's an issue particularly.
I've not used the webcam often since the pandemic when the Chromebook was used for Google Meet sessions with family.  The speakers still have their distortion issue, but aside from the ocassional YouTube video that's not a huge concern here.
I've given a number of presentations from my Chromebook, and it performs well for that purpose via a USB-C to HDMI adapter.  No complaints there.
Overall a good purchase.
---
Banner image a photo of the Asus C423NA.
Note:  This laptop was purchased by me, so this review is an unbiased summary.  Asus have not been involved in this review nor provided any goods or services.