Review: Gazing Far tmX fountain pen


In a departure from my normal tech blogging I'm reviewing my latest fountain pen acquisition - a Gazing Far tmX in rosewood.  I didn't have a wooden pen in my collection, nor a pocket pen, so this was a way to kill two birds with one stone :) .  Apologies in advance for the poor camera quality of my phone!
I first came across Gazing Far while reading a review of the tmX written by Anthony over at UK Fountain Pens (his review here).  If you're in to fountain pens I recommend Anthony's blog to you - a good writing style and very honest reviews.  Anthony had reviewed the tmX in dragon juniper and then linked to Scrittura Elegante in the Netherlands.  Looking at their shop I spotted a tmX in rosewood (I wasn't a fan of dragon juniper) but alas it was out of stock.  There ended that, or so I thought.
Now, I don't know about you but tabbed browsers are a blessing and a curse for me.  As I type this blog post (on elementaryOS) I've got nineteen tabs open.  My phone currently has twenty four tabs open (hastily whittled down to twenty one as I realised I didn't need some things anymore).  I leave tabs open as an aide memoire - "I need to come back to that" - or sometimes because I forget to close them.  In this case I left the tmX in rosewood tab open and promptly forgot all about it, until I returned to my laptop some weeks later.  The pen was back in stock, horray!  I'd best not do that often, otherwise I'll end up emptying my bank account...
A word on Scrittura Elegante
While a single purchase is hardly enough data to form a robust conclusion, I cannot fault this company.  My order was shipped quickly with emails being sent to confirm despatch.  On arrival I found the pen well packaged in a sturdy outer carton with air pockets to protect it in transit.  Extracting my pen from the box I found it double gift wrapped, first in white tissue paper, then in a green and gold floral paper.  Sadly I was too keen to get to my pen, so didn't get a good photo of the outer wrapping, but I did note it was held together with a "thank you for your purchase" sticker in English - I'm assuming they'd localised the fixing for a non-Dutch speaker.  That shows attention to detail in my view :) .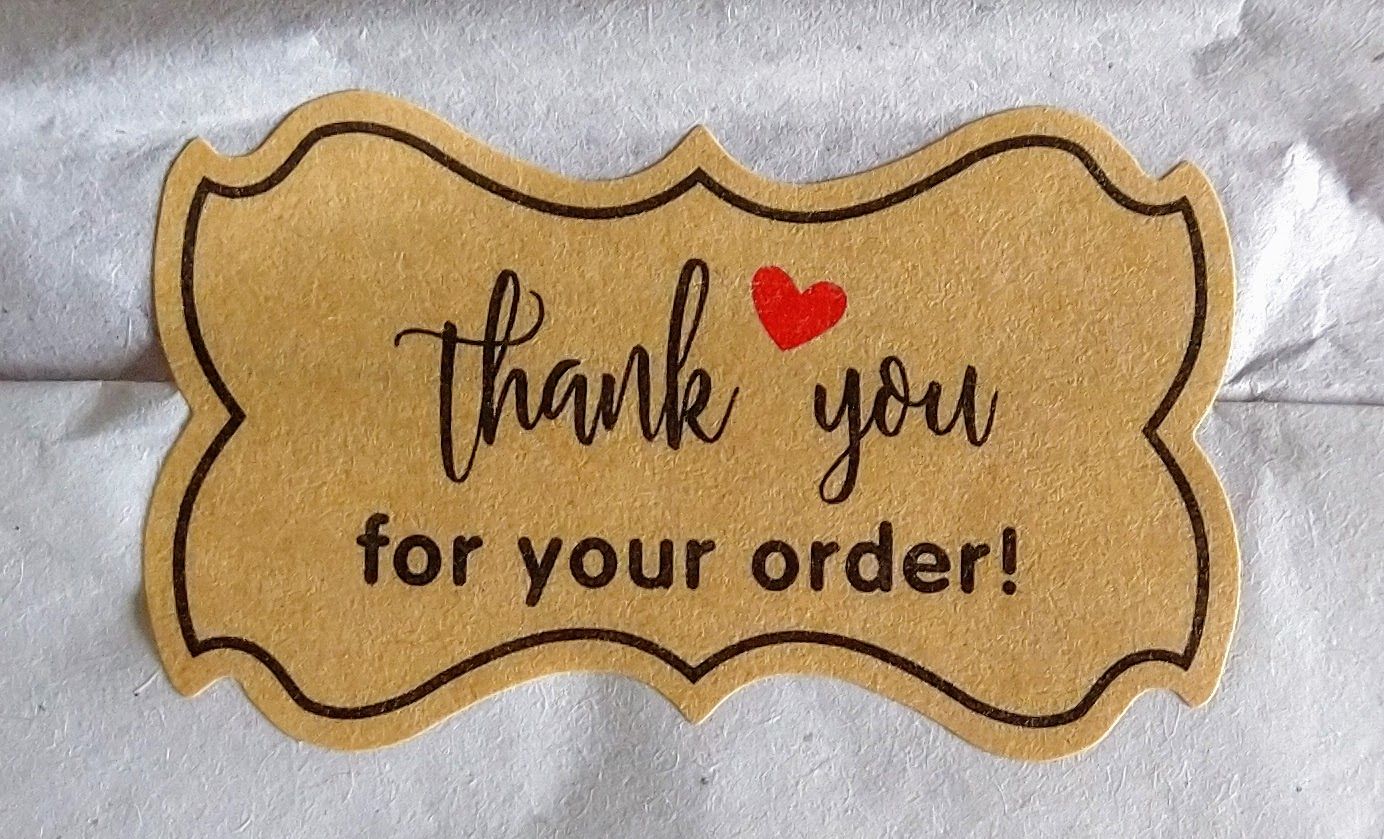 Also included was some test paper, a business card and a chocolate toffee eclair sweet.  All nice touches.
If you purchase from them and pay by PayPal expect it to show on your statement as a payment to an individual.  You'll see the same name on the tracking emails saying you're being sent a parcel by Post NL - panic not.
Inside the packages
Once inside the green paper I was met with a sturdy red box made from cardboard (plus a couple of magnets).  The design is simple, and largely recyclable / doesn't use plastics, so plus points for Gazing Far there.

Opening the box showed more cardboard (good) and a note explaining what compatible cartridges / converters could be used with the pen (more on that later).  Note the incorrect spelling: "competibale" - not a big deal and made me laugh, but perhaps something Gazing Far should address.  I'm always confused when errors like this slip through - if I was writing in a second language I'd get my work proofread [1].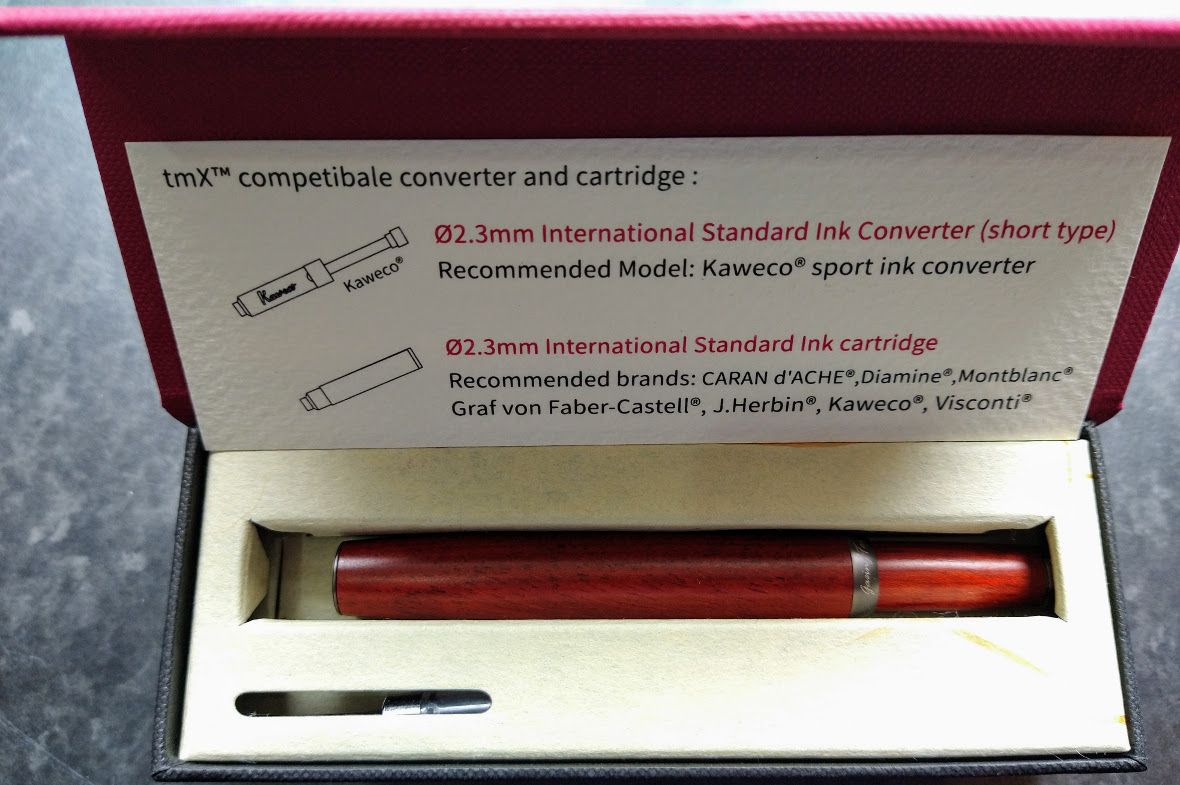 I was pleased to see the wooden pen had arrived without a scratch.  The wood is nicely polished and has a warm feeling to it and the gun metal has a neatly engraved "Gazing Far" logo on the cap band.  Uncapping is a smooth process (no squeaking), as is placing the cap on the end ("posting" the pen) to give a comfortable full size pen at just shy of 13cm (my Waterman Carene, unposted, is about 13cm too).

Filling the pen
The tmX is a cartridge converter pen, meaning you can either use disposable ink cartridges or the supplied converter (a Kaweco Sport one).  I don't like throwing away plastic cartridges so I've been using bottled ink for years, plus there's a lot of choice when it comes to bottled ink.  On inserting the Kaweco Sport converter I found it very stiff, and I doubted that it would fit to begin with [2].  After a firm shove it located correctly and I was able to fill from a bottle of Parker Quink blue black ink.
There's not a lot to grip when uncrewing the pen to get to the cartridge, just the smooth, unthreaded, portion just above the nib (to the left as you look at the photo) on the photos below.  Beware of inky fingers!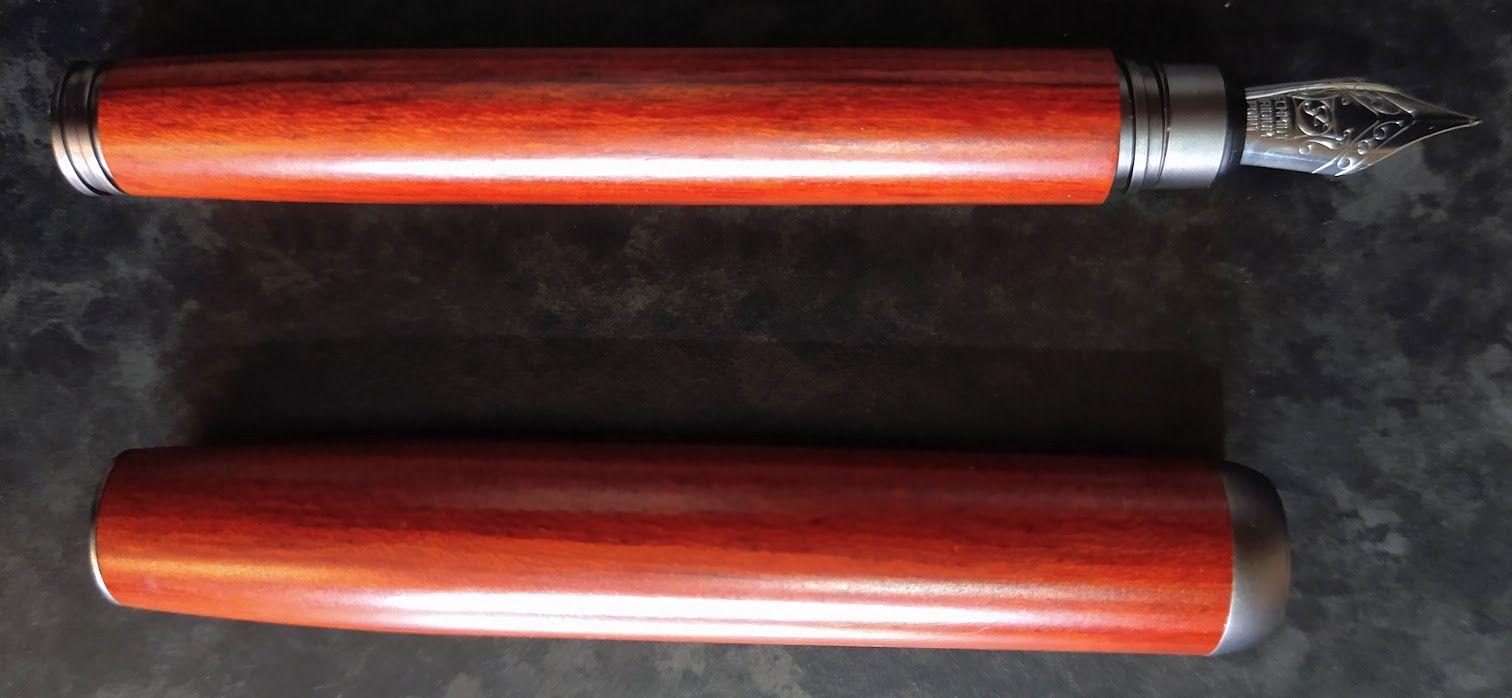 Writing
Sadly I had issues with the nib after filling, which is unusual given the nib was submerged in the bottle of ink and the feed would have been saturated.  I left the pen standing nib down for a while and it sprang to life.
Since the initial problem the tmX has continued writing perfectly, putting down a good fine line.  I opted for a fine nib in steel (no gold options available at the time) and the nib is quite smooth, albeit slightly misaligned on the feed (sorted).  It's been capped in my pen roll for a few days and I've picked it up today and it's written straight away without any issues.  I might look at the cost of a rose gold nib and the feasibility of swapping it onto the tmX - I suspect that might look quite good.
Although you can use the tmX without posting it (i.e. without putting the cap on the top), the pen is only around 9.5cm like that, so a bit short.  Not a problem for a quick note, but less usable for a longer writing session.  Once posted it's quite comfortable to use for an extended writing session though, and I've written study notes and letters [3] with it already.
But will I put it in my pocket?
Despite being a pocket pen I won't be putting this in my pocket.  It's certainly small enough to do so (10.5cm capped), but I wouldn't want to risk scratching the smooth wood finish with keys / zips / stones (the joys of children!).  If you're after a nice looking, wooden pocket pen I'd certainly recommend the Gazing Far tmX to you.
Disclaimer: this pen was purchased with my own funds and neither Gazing Far nor Scrittura Elegante are aware I'm writing a review.
---
Banner image: The pen in all its glory.
[1] I usually get my blog posts proofread too, and they're written in my mother tongue!
[2] I couldn't think of a better way to write that but no, it's not a euphemism!
[3] Not only am I old enough to remember life before widestream email use, I also still send letters.  You know, on paper, in an envelope, via a post box.